No More Noisy Nights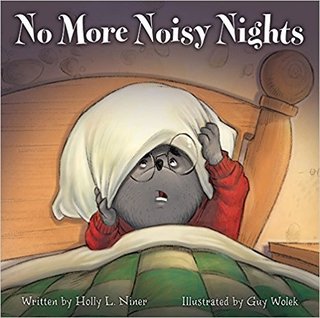 Mom's Choice Award Gold Winner
Mississippi Magnolia Children's Choice Award PreK-2 List, 2019
Scholastic Book Club Selection
Storyline Online selection, read by Tony Hale
Cozier than a mole in fuzzy pajamas, No More Noisy Nights is an underground, under-the covers read-aloud, perfect for calming bedtime boogety-woogeties.
Reviews
From Kirkus
"Unexpected housemates lead to fitful nights for a new subterranean tenant. …there is much to enjoy: the silly mistakes Jackson makes from lack of sleep, effective page turns that build suspense, and a predictable story structure. Soft, computer-generated illustrations will engage observant young readers keen to explore Jackson's new home."
From Publishers Weekly
Flashlight Press pricks up its ears with No More Noisy Nights by Holly L. Niner, illus. by Guy Wolek, in which a mole discovers that his new underground home is inhabited by some spooky and noisy nocturnal creatures.
From Children's Literature
This story is a winner, with a charming message and wonderful drawings.
Poor Jackson Mole works hard all day, moving boxes of stuff and furniture into his new house, which makes him very ready for bed and a good night's rest. Promptly at nine p.m., he settles himself in, expecting to sleep soundly, but the "oooEEEeee" wail coming from the attic keeps him awake all night. Jackson has a hard time staying awake the next day and does such silly things as putting ketchup on his toast. At bedtime, Jackson goes up to the attic and asks the ghost to be quiet. The ghost, says he'll try to be quieter, but what's he supposed to do? Jackson says he'll think about. The next evening he sets a box on the attic floor. But does he get to sleep that night? Noo. The basement Boogey Monster, boogety woogety wooos all night long. Jackson asks the monster to make less noise at night, but the monster doesn't know how. Jackson leaves a box at the foot of the basement stairs. Now he is sure he'll have good night's sleep. Nope. The Piano Pixie starts plinking out her music. Is he ever going to have a peaceful night's sleep? Of course, the next morning, Jackson asks the pixie to not make all that noise at night. She says she'll try, but what's she supposed to do. He puts out sheet music for the pixie and goes to sleep with the soft sounds of a puzzle being assembled above him, a toy train chugging along below him, and a pixie lullaby coming from the piano. What can be better than a not-so-noisy house and new friends? This book is adorable, with cute illustrations and a good message of cooperation.
From Edwards Book Club
With pages bursting with beautiful colors and amusing characters, it is sure to be a fun story for children between the ages of four and seven. Using Jackson's night-time experiences, Niner is cleverly helping kids explore ways to be not-so-afraid when the lights go out — making it an ideal outlet for little ones who may have a fear of ghosts, monsters, and pixies. No More Noisy Nights shows children that sometimes things are really not as they seem and that making friends can be easier with a little cooperation and politeness. It's a perfect and cozy little picture book to get children laughing and ready for bedtime.
From Story Monsters, Darleen Wohlfeil
This adorable book grabbed me right at the cover. Illustrator Guy Wolek captures the warmth, patience, and overall heart-winning personality of Jackson the mole with perfection. We can all learn a thing or two as we watch Jackson cope with his new noisy neighbors. Its so much easier with kindness.
From Kidpeople Classroom, Kathleen Wright
What do you say about a book which stars a mole, a ghost, a boogey monster, and a Pixie? What?? I say that's a rather unlikely cast of characters, but the kiddos will like 'em all.
Mole has a new house! He works hard to make if feel like home, moving all his things into place. He happily settles in for the night… until he finds his new house is too noisy to sleep in. After making some pretty silly mistakes in the morning because of his sleepy, muddled brain, he decides to take action and that's when he discovers he has housemates. Mole must get creative to keep everyone happy.
This book is a great one to get students thinking about problem solving when things aren't going well among classmates. How can you keep everyone happy when you are all so different and you all like different things? And if you are a parent who wants a new bedtime read, No More Noisy Nights certainly lends itself to that… put qualms about noises that go bump in the night to bed with the friends in this book.
Guy Wolek's illustrations include lots of techniques that kids can use in their storytelling. Cutaways that show what's happening in different places, sound words, and motion lines help tell the tale of the cute and colorful characters. Students will love looking over the pictures, finding details. And this Flashlight Press book includes About the Author and About the Illustrator blurbs, too. They're such a good way for kids to see authors and illustrators as real people, and learn ways to write their own blurbs.
From Storeybook Reviews
Jackson the mole has to figure out how to make the ghost in the attic, the boogie monster in the basement and the Pixie in the piano let him have a peaceful nights sleep. He does figure it out and they all get along in the end. This is a cute story book for kids and it might even teach them a little something about problem solving and dealing with uncomfortable situations. The illustrations in the book depict the various scenes in Jackson's home and the 3 other residents of his home. They are beautiful and fit the story well. We give it 4 paws up.
From Bookworm for Kids, Tonja Drecker
Simple yet clever–this mole takes on the weirdest neighbors in a delightful way.
Jackson has just moved into his new home and can't wait to get some rest after all of the work he's done, but sleep doesn't come easy. The strangest noises come from above, below and even from his own house. Somehow, he has to find a way to deal with them and get some much needed rest.
Jackson comes across as a more traditional, serious mole. He has a normal mole home with perfect older, bachelor style. So when the strange noises start, it's time for a surprise. The noises come from the most non-traditional creatures and create a lovely contrast, which opens up all sorts of possibilities. The ghost and fantasy beings clash against Jackson, but he handles the entire thing with amazing finesse and cleverness. Without many words, the solutions slide into place and young readers will understand right away what's going on. In other words, this book does not talk down to them.
The illustrations are bright, crisp and bring across a snuggly atmosphere. Jackson's home, as well as Jackson himself, carry earthy colors and are illustrated in a familiar way. When the creatures come in, the surrounding atmosphere doesn't break, but allows their bright boldness to mold in to Jackson's world. There are small details to notice time and again, which keep those pages turning and insure the book will be revisited again and again.
The plot itself is simple, and the text just right for younger listeners to grasp. There's a wonderful balance between the story being told and unspoken actions, which are simply understood. While Jackson's problem might seem serious, there's a lovely dash of silly humor thrown in as well, which insures giggles without going over the top. It's a nice mixture, which kids ages 3 and up are sure to enjoy.
From Foreword Reviews
With a ghost in the attic, a bogey monster in the basement, and a pixie in the piano, it's no wonder Jackson is having trouble sleeping. No worries, though—some thoughtful problem solving guarantees a restful slumber for Jackson, and perhaps a few new friends, in No More Noisy Nights, from Holly L. Niner. Amusing illustrations from Guy Wolek reveal an adorably earnest Jackson and his kind but clamorous neighbors as they learn to peacefully coexist.
From MyShelf, Jan Fields
Jackson loves his new home, until he goes to bed and the noises start. How's a mole to sleep after a hard day of unpacking when is house is full of sounds? Thankfully Jackson is a kind and creative little mole, and he figures it out. The text and illustrations of this charming bedtime book work perfectly together to give us a sense of both Jackson's quiet, industrious nature and his cozy new home. The author brings plenty of read-aloud enjoyment to the text by her use of the sound effects that disturb poor Jackson's sleep. Children will enjoy the silly things Jackson does because of his lack of sleep, and parents will appreciate Jackson's kindness and creativity as he turns a problem into an opportunity for wonderful new friends. I also loved the illustrations. The sweet character designs, muted color palette, and beautiful details will make the book one that young children will spend hours looking at. I know that as a child, I would have loved all the little peeks into the rooms of Jackson's house and imagined living in such a place. I predict this book will be read over and over and over by every child lucky enough to get a copy.