Mr. Worry: A Story about OCD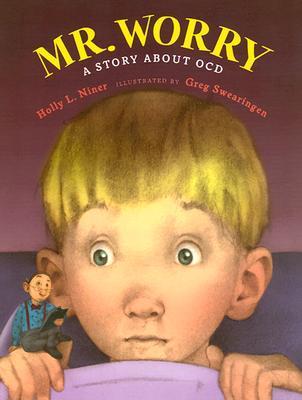 Kevin can't get to sleep at night until he does many things. He straightens his chair and the books on his desk. He asks his mother questions he already knows the answers to. He checks under his bed for a light he knows isn't there, and then, a minute later he checks again. Kevin knows these actions don't make sense; he wants to stop, but the worry thoughts keep coming.

When his parents realize that Kevin has too many worries, they take him to talk to a therapist. She tells Kevin and his parents that Kevin has a condition called obsessive-compulsive disorder (OCD) and that, more importantly, he can be helped.

One out of a hundred children suffers from OCD. Current research suggests that the condition is caused by a chemical imbalance in the brain. Holly L. Niner, whose son has OCD, paints a compassionate portrait of a child who learns techniques to keep "Mr. Worry" away.


Mr. Worry was one of 40 books chosen by IBBY to be included in the Outstanding Books for Young People with Disabilities 2005 catalog and traveling exhibit.
Reviews
From School Library Journal
Kindergarten-Grade 4-Soft, soothing artwork accompanies a quiet story about a young boy trying to overcome the terrors of obsessive-compulsive disorder (OCD) in his daily life. All of the people in young Kevin's life join forces to help him manage his problem, which he names Mr. Worry. The use of simple language and straightforward information clarifies the situation, and readers are soon cheering for the boy's success. The artistic portrayals of Kevin's thoughts add whimsy and interest to the story. Although the author includes a few setbacks, Kevin makes good progress, providing hope for the future. This title fills a singular need in the area of psychology.

From Booklist
Gr. 2-4. Kevin does a lot before he goes to sleep: line things up neatly, push in the desk chair, ask his mom the same questions over and over. If he doesn't do those things "his mind gets sweaty," and he is afraid to tell his parents. What if his mom's an alien? (The picture of Kevin and Mom both riding bikes, in which she turns blue with pointy ears, is actually quite funny.) Kevin's parents take him to see a doctor who talks to people all day about their worries. Dr. Fraser teaches Kevin techniques on how to "hang up" on worry messages as if they were wrong numbers, and she gives him medication. Soon Kevin, who has named his OCD Mr. Worry, is managing his fears better. The airbrushed illustrations, which tend toward realism, have a certain blandness, but there's humor in them as well. This picture book for older readers is useful bibliotherapy that will no doubt comfort many kids.