School Visits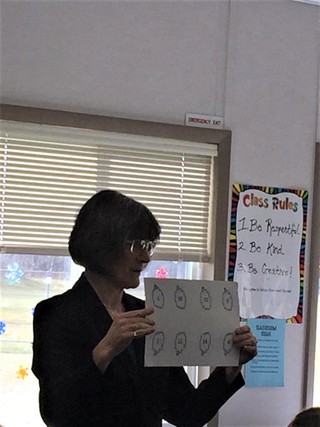 An author spends a great deal of time alone weaving words together into sentences, sentences into paragraphs and paragraphs into magic-if she's lucky! Sometimes an author wonders if it's worth it. That's when an author needs to meet a reader. And a reader who meets an author might just want to try their hand at weaving words together.

Holly offers several programs for students that touch on different aspects of the writing process. Holly will come for a full or half day seeing students in grade levels or combined grade levels. Smaller groups allow for a closer connection with the students. Presentations generally run 45 minutes.

I. Packing a Story for Readers to Unpack

A. Just as Grace packed her wagon to run away, Holly brings a wagon full of visuals to explain the writing process and what a writer packs into a story. A general presentation good for all ages.

B. Students will learn:
1. Where to get story ideas
2. How rejection can make a better writer
3. Basic elements in a story; character, setting, problem and resolution
4. The importance of revision
5. The importance of choosing the right words

II. Understanding Book Construction = A Better Story

A. An author thinks about many things as they turn an idea into a story. One consideration, particularly when writing a picture book is the number of pages in the book. Understanding this helps an author write a story that will be a page turner! This presentation is best done in small groups as students will make a story board.

B. Students will learn:
1. The difference between a story book and a picture book
2. Things to consider when deciding how to break up the text into pages
3. How to make story boards and book dummies that help in planning a story
4. The importance of revision

III. The Secret to a Scrumptious Story

A. Just as many recipes use basic ingredients, stories have certain elements in common, but the magic is in how you combine them. This presentation is best done with small groups, where students will develop their own Delicious Story Start.

B. Students will learn:
1. Where story ideas might come from
2. The who, what, where, when, why of starting a story
3. The importance "show don't tell" and dialogue
4. The use of "what if?" and the Rule of Three to help develop a story idea

IV. What's it Like to be an Author?

A. A shorter program for grades prek-1 with a reading of The Day I Ran Away and some yoga to help get the wiggles out.

B. Students will learn:
1. About Holly and being an author
2. Some of Holly's favorite books
3. Where Holly gets ideas
4. How Holly handles rejections



I'd be happy to discuss other presentation ideas to meet your schools needs.
Fees are $300 for a half day and $600 for a full day, with travel expenses negotiable depending on the distance.

School budgets are tight. Here are some funding possibilities used by schools: collaborating with another local school, with half day at each if they aren't to far apart, local or educational grants, Title I funds, High Ability funds, PTO groups, sorority donations, library/media funds or participant fees for an author fair.

Here's a wonderful read from an Iowa school superintendent's blog post on why author visits are important.

Here's a 2014 PTO Today article about author visits.